BEFORE I START THIS OFF I JUST WANTED TO SAY THIS WILL BE A LOT OF READING, YOU HAVE BEEN WARNED
Hey guys, long time no see 
Kicking this one off with something I had on my mind for a while now, a topic for all members' collections of various motorsport memorabilia.
Of course I have one of my own and with my new load of cars that came in today I remembered I wanted to do this so here I am.
My current collection consits of 38 cars scale 1:43 and 2 scale 1:18 as well as 4 autographs of F1 drivers.
To start this one some pics of the autographs: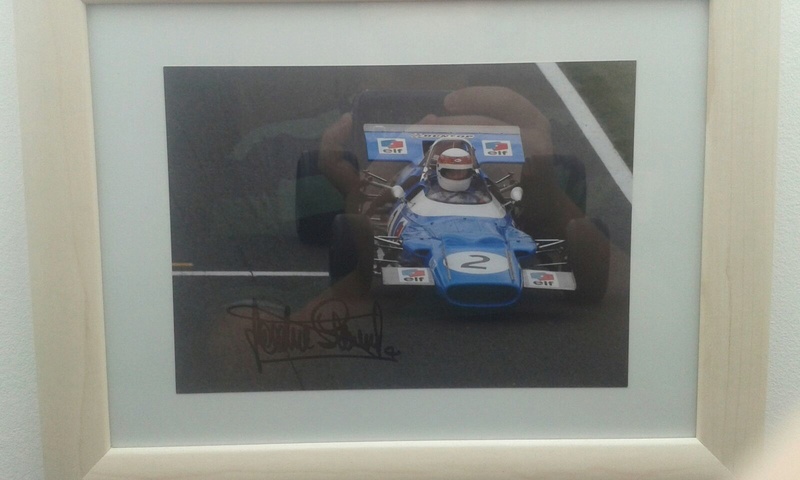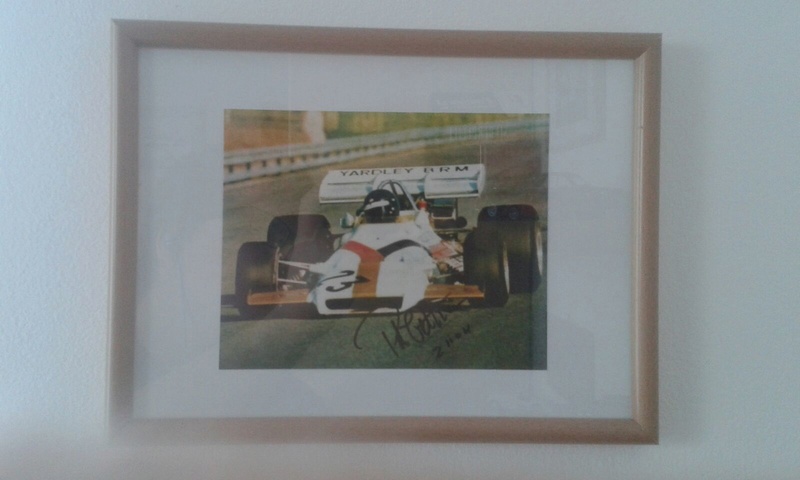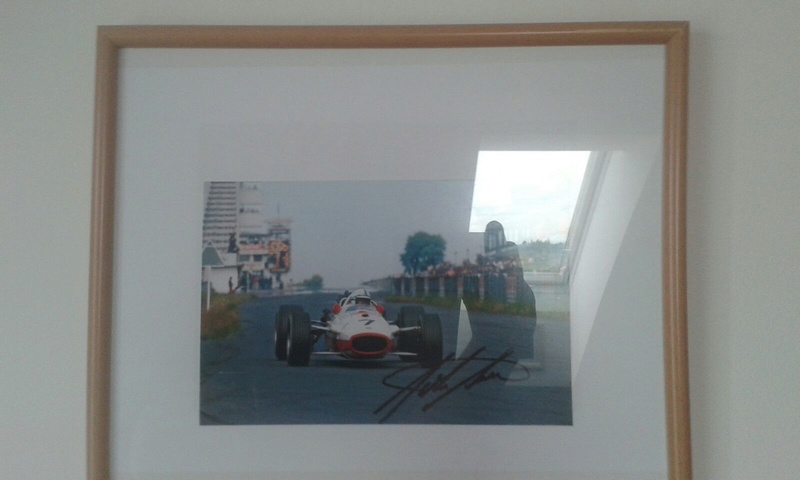 The first two are of 3x F1 drivers' champion Sir Jackie Stewart ,next one is of 1x F1 GP winner Peter Gethin as well as one of the late Sir John Surtees. All of these autographs sholud be genuine, though I can only be certain for the first one as I got it signed via a personal request per mail.
Next of are going to be the 1:43 as these are the main part of my collection, first off I will show some pictures, then a detailed list of informations about the individual cars will follow. My 1:43 is devided in open-wheel and closed-wheel cars, each one has their own shelf and is sorted by the age of the original (i.e. from the oldest to the newest car)
(I warned you that this will be a lot of reading)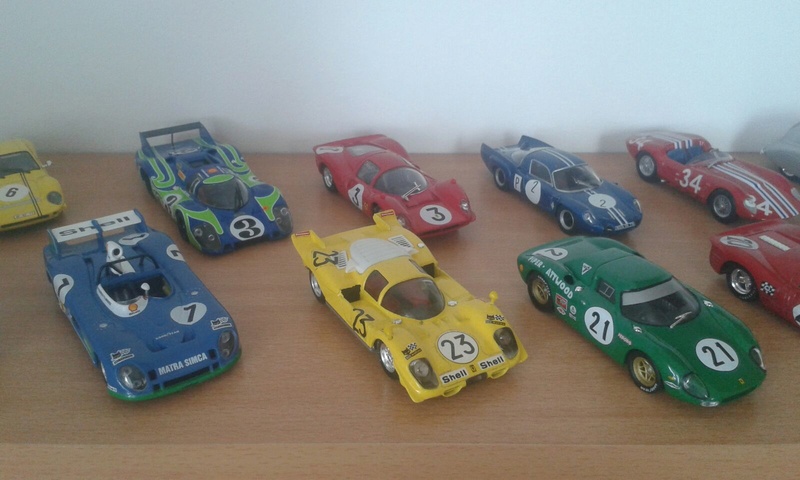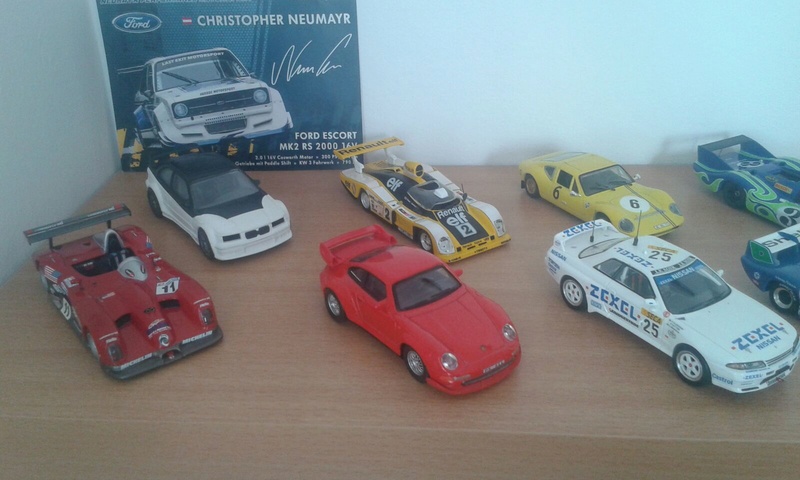 From right to left, top to bottom:
1.
Tatra T600 'Tatraplan' driven by Alois Kopečný and Antonín Kubíček at the "Internationale Österreichische Alpenfahrt" in 1949,      model by Ixo
2.
Jaguar XK120 driven by Ian Appleyard athe the 1950 Rallye Coupés de Alpes, model by brumm
3.
Maserati Tipo 61 'Drogo' driven by Lloyd Casner at the 1963 Sportscar GP at Reims, model by Leo Models
4.
(missing)
Tatra T603-2 B5 #89 driven by Alois Mark at a unnamed race on the Štramberk street circuit in 1966 model by Ixo (with a      lot of reworking, still W.I.P.)
5.
Alpine A210 driven by Mauro Bianchi athe the 1966 500km Nürburgring, model by Eligor
6.
Ferrari 330 P3/4 Spyder, 1967 24H Le Mans, Chris Amon/Nino Vacarella, model by brumm
7.
Ferrari 330 P4, 1967 1000km Monza, Chris Amon/Lorenzo Bandini, model by brumm
8.
Ferrari 250 LM, 1968 24H Le Mans Darvid Piper/Richard Attwood, model by Ixo
9.
Porsche 917 LH, 1970 24h Le Mans, Gérard Larrousse/Willi Kauhsen, model by CMR
10.
Ferrari 512S, 1970 Spa 1000Km, Derek Bell/Hughes de Fierland, model by brumm
11.
Melkus RS1000, apparently a 1972 race in Most, Czech republic, no further info found, model by Ixo sold by Foxtoys
12.
Matra MS670B, 1974 24H Le Mans, Henri Pescaloro/Gérard Larrousse, model by Ixo
13.
Alpine A442B, 1978 24H Le Mans, Didier Pironi/Jeán-Pierre Jaussaud, model by Ixo
14.
Nissan BNR32 Skyline Group A, 1991 24H Spa, Anders Olofsson/David Brabham/Naoki Hattori, model by Premium X
15.
BMW M3 E36, early W.I.P. model by Bburago (very extensive upgrades)
16.
Porsche 911 993 GT2, model by Cararama
17.
Panoz LMP Evo 01, 2000 24H Le Mans, David Brabham/Jan Magnussen/Bryan Herta, model by Ixo
moving to the open-wheelers now:
from left to right, top to bottom
1.
Fiat 130HP, 1907 French GP, Vinzenco Lancia, model by brumm
2.
Bugatti T59, no further info, model by brumm
3.
Auto Union Typ C, 1936 Italian GP, Achille Varzi/Rudolf Hasse, model by brumm
4.
(missing decals)
 Mercedes W125, 1937 Monaco GP, Rudolf Caracciola, unknown brand
5.
Auto Union Typ C Stromlininenwagen, 1937 AVUS Rennen, Bernd Rosemeyer, model by Minichamps 
6.
Auto Union Typ D, 1938 Donington GP, Tazio Nuvolari, model by brumm
7.
Mercedes W154 (M163), 1939 German GP, Rudolf Caracciola, model by brumm
8.
Maserati 8CTF 'Boyle Special', 1939 Iny 500, Wilbur Shaw, model by Schuco
9.
(wrong decals)
Alfa Romeo 158 'Alfetta', 1950 British GP, 'Nino' Farina, model by brumm
10.
Mercedes W196, 1955 German GP, Juan Manuel Fangio, model by brumm 
11.
Lancia D50, 1955 Monaco GP, Alberto Ascari, model by Ixo
12.
Ferrari D50, 1956 German GP, Juan Manuel Fangio, model by Atlas
13.
Vanwall Mk.4, 1957 British GP, Stirling Moss/Tony Brooks, model by brumm
14.
 Maserati 250F, 1957 German GP, Juan Manuel Fangio, model by Schuco
15.
Lotus 25-Climax, 1963 British GP, Jim Clark, model by Ixo
16.
B.R.M. P115, 1967 German GP, Jackie Stewart, model by Spark
17.
Ferrari 312-68, 1968 French GP, Jacky Ickx, model by Ixo
18.
Ferrari 312 T3, 1977 German GP, Niki Lauda, unknown brand
19.
Lotus 79-Cosworth, 1979 Argentinian GP, Carlos Reutemann, model by Ixo
20.
Renault RE20, 1980 South African GP, René Arnoux, model by RBA Collectibles 
21.
McLaren MP4/4, 1988 Canadian GP, Ayrton Senna, unknown brand
Alright, with that the main part of my collection is done, I do own a Alpine A110 and a Lancia Fulvia HF in 1:18 scale but can't take pictures of them any more as it has now become so dark outside that taking pictures with my phone is impossible 
.
I hope you liked this 'quick' tour and I will be glad to see the colletions of others as well, bye for now
teddyator